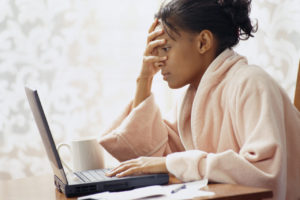 So, I'm basically writing this blog because there are a ton of people these days screaming, "go to therapy!"- myself included.
I'm a huge advocate of encouraging folks to get in therapy if they need it. It's life-changing. I know firsthand how it can save you from the lowest of lows.
One thing that has always bothered me though, is that we all pretend like it's just that easy! You decide to go, so you go. IT'S NOT. 
Many people don't know how to get into therapy. How to find a therapist. How to pay for therapy. There are certainly systemic issues related to the US healthcare system that make this difficult. You think…with all the negative self-talk and stigma someone has to hurdle through just to get to the point of wanting to go to therapy- it's a shame that there is such a journey from there to "sitting on the couch".
I remember the first time I even considered actually going to therapy. I was an adult in my late 20s, and probably should have gone 10 or 12 years before that to be honest!
I didn't know where to start, and then, what I found online featured places that had rates I certainly couldn't afford.
HOW FRUSTRATING! Ugh!
I've  always wanted to find and share practical ways to make that process just a tad bit easier.
And while I'm so glad that social media has allowed for influencers to be vocal about the importance of mental health…Like, how the hell do you get into therapy? Doesn't that cost money?
OK…here are some tips on affording therapy…
If you have Medicaid or qualify for Medicaid, you can get free therapy.
If you have [other] insurance, use it! Always search for 'in-network' providers just like you do for physical health. This usually takes a phone call if it's not on the website. Psychology Today is a good place to find a therapist, and to learn if a therapist takes your insurance (plus more).
If you DON'T have insurance and you're a student, check the health center. Most schools and universities offer free counseling services.
If you DON'T have insurance and you're NOT a student, try the community center or clinic up the block. If they are an FQHC (federally qualified health center; think gov't funding), they can slide down to free if need be:-)
Some private therapists work off sliding fee scales. Just ask!
Just like a hookup on hair, look for places that are training students and interns in psychology, counseling, or social work. Their rates are often cheaper, but still quality care.
Still no luck? Reach out to NAMI's 24/7 line at 1-800-950-NAMI for help finding/getting into care, or text in a crisis to 741-741.
And listen…professional help is professional help- but in the meantime, never underestimate that one friend you can always vent to. Hell, that fails, message us!
WE CERTAINLY WELCOME ANY TIPS WE MAY HAVE MISSED ON AFFORDING THERAPY. PLEASE SHARE IN THE COMMENTS BELOW. THIS COULD BE A LIFESAVER FOR SOMEONE READING. MAYBE THEY WON'T WAIT AS LONG AS I DID:-)
#JHJ #MentalHealthMatters #MentalHealthMindset #AspiretoEmpower #TherapyIsDope