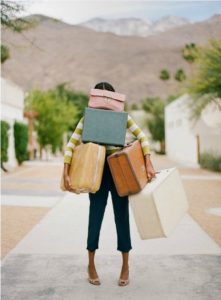 Bag lady you gone hurt your back
Dragging all them bags like that
I guess nobody ever told you
All you must hold onto, is you, is you, is yoooou
One day all them bags gon' get in your way
One day all them bags gon' get in your way
I said one day all them bags gon' get in your way…
So, pack light.
-Erykah Badu (my birthday twin;)
SUICIDE. How many more do we have to lose to suicide?
A couple days ago, the world lost Kate Spade, a renowned designer known for her handbags, amongst other things. According to reports, she hung herself in her NYC apartment with a red scarf. How sad is that? I pray that as sad as this is, her death is not in vain.
The more I think about celebrities dying by suicide, the more I think about the work that needs to be done in our very own communities, and with the people around us everyday. I doubt that most are aware of how many people die by suicide everyday. They just don't get the media coverage if they look like you and I.
EVERY YEAR, ALMOST 45,000 PEOPLE DIE BY SUICIDE. FOR EACH OF THOSE THAT DIE BY SUICIDE, THERE ARE 25 OTHERS THAT ATTEMPT SUICIDE.
Now, THAT is CRAZY.
I don't know about you all, but growing up, there were so many implicit rules about a woman's "bag":
THE RULES:
Don't sit it on the floor because grandma says that brings you bad luck (something about being broke forever!)
Don't you EVER go in someone else's <insert whatever your people used to call it>.
If they say reach me my "pocketbook", you reach it. You don't open it, look in it, or anything else.
If someone gives you permission to go in  their "purse", and hand them the small ziplock bag with all the peppermints in it, you better do just THAT, quickly, and nothing else!
Translation and Summary: My bag is my bag. Stay out of it. 
In many ways, I feel like our struggles with stress, and relationships, and life, and mental health are much like the way we treat our "pocketbook" (that's what MY elders often called it when I was growing up).
Maybe it's because we still haven't agreed on what to call "it". Maybe we should be more interested. Maybe we should remain respectful, but ask more questions. Maybe it's okay to say it feels super heavy, or it feels like nothing is in it at all. Maybe, anything is more worth it than losing another life.
This space, Mental Health Mindset, was created for a number of reasons- to vent,  (maybe even grieve), to share our personal experiences, to allow people to ask questions and discuss in a safe space, and to provide information.
Today, I'm sad about Kate Spade taking her life, but only she knows how heavy those bags were.
All of us carry baggage. Sometimes, it just gets to be too much to carry alone.
What do you think we as a society should do as next steps in preventing suicide? Share in the comments below.
P.S. Before I could even finish this blog post, I learned that Anthony Bourdain had died by suicide:-( We've all got to do more!
IF YOU ARE SOMEONE YOU KNOW IS STRUGGLING WITH DEPRESSION AND/OR SUICIDAL THOUGHTS, CALL THE NATIONAL SUICIDE PREVENTION LIFELINE AT
1-800-273-8255.
IF YOU ARE SOMEONE YOU KNOW HAS QUESTIONS ABOUT GETTING HELP OR NEED TO TALK TO SOMEONE, FEEL FREE TO MESSAGE OR E-MAIL US PRIVATELY. WE REALLY DO CARE!
#JHJ #MentalHealthMatters #MentalHealthMindset #AspiretoEmpower