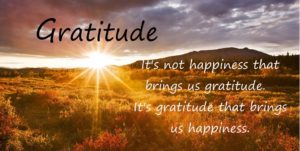 In the midst of chaos especially, it is difficult to be grateful. If you really think about it, there is more that is "alright" in our worlds, than is not- most of the time.
As we enter a new year, be intentional about recognizing the things in your life that bring you joy and peace, those things you are grateful for. Though we often aspire to be and remain grateful, throughout the year we tend to get off track.
List 3 things you are grateful for as we enter 2018. After all, life feels a little bit sweeter when we focus on the good.
#JHJ